My contributions to both are in bold blue below.
New test provides employers with more flexibility
Allen Smith, J.D.
Jan. 9, 2018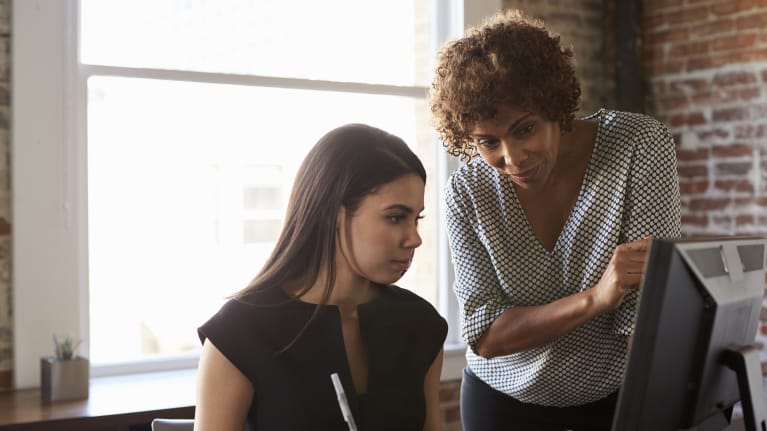 A new Department of Labor (DOL) test for determining when interns are employees who must be paid in accordance with the Fair Labor Standards Act (FLSA) has employers wondering if there might be a resurgence in unpaid internships.
The DOL on Jan. 5 adopted a "primary-beneficiary test" for determining whether interns are employees. The department abandoned a rigid test whose six parts all had to be met for someone to be considered an unpaid intern and not an employee.
"Because the new primary-beneficiary test relies on a more 'totality of the circumstances' approach than the previous six-factor test, unpaid internships may increase in prevalence as compared to recent years," predicted Franklin Wolf, an attorney with Fisher Phillips in Chicago.
But Charles Krugel, Esq., an attorney in Chicago, said, "I don't believe that unpaid internships will have a resurgence."
Old Test
Under the old six-factor test, all of the following criteria had to be met for an internship to be unpaid:
The internship is similar to training that would be given in an educational environment.
The internship experience is for the benefit of the intern.
The intern doesn't displace regular employees and works under close supervision of existing staff.
The employer doesn't gain an immediate advantage from the intern's activities—and on occasion the employer's operations may be impeded by the intern's activities.
The intern isn't guaranteed a job at the end of the program.
The employer and the intern each understand that the internship is unpaid.
[SHRM members-only toolkit: Employing Interns]
Four appellate courts rejected the DOL's six-part test because the FLSA's definition of employment is broad and is not a strict all-or-nothing test like the DOL used, noted Jim Paul, an attorney with Ogletree Deakins in St. Louis.
New Test
Wolf said the DOL's newly adopted primary-beneficiary test, used by the courts that rejected the six-factor test, does not require each of its seven factors to be met. The new test includes consideration of the extent to which:
Both parties understand that the intern is not entitled to compensation.
The internship provides training that would be given in an educational environment.
The intern's completion of the program entitles him or her to academic credit.
The internship corresponds with the academic calendar.
The internship's duration is limited to the period when the internship educates the intern.
The intern's work complements rather than displaces the work of paid employees while providing significant educational benefits.
The intern and the employer understand that the internship is conducted without entitlement to a paid job at the internship's end.
"The new test is meant to eliminate confusion by aligning the DOL's position to that of the trend in case law and to give both businesses and DOL investigators more flexibility in examining internship programs," said Camille Olson, an attorney with Seyfarth Shaw in Chicago, Los Angeles and San Francisco. "It is also meant to take into consideration that nonmonetary benefits often flow to interns in connection with an internship relationship."
None of the seven factors in the primary-beneficiary test are yes/no questions, she emphasized. "They ask the extent to which each factor is met rather than whether a factor is met," she noted. The factors are used to determine which party—the intern or the company—is the primary beneficiary of the relationship.
If at least 51 percent of the benefits go to the intern, he or she is the main beneficiary and does not have to be paid, Krugel said.
He observed that unpaid internships arose following the Great Recession, when employers were cutting wages and benefits to survive. Increased regulation and enforcement of the FLSA on behalf of interns followed. Companies that relied on unpaid interns who should have been paid had to change their practices, he noted, and "many of the changes made to internship programs are now part of company culture."
That said, he acknowledged that there now are "improved conditions for unpaid internships."
Revised Documentation
Companies that choose to rely on unpaid internships should revise all program-related documentation—such as policies, advertisements and recruiting materials—to use the language of the seven factors in the primary-beneficiary test, Paul said.
Both the student intern and the business should sign agreements incorporating the same language, he added. "This way, a clear understanding of the relationship can be demonstrated without dispute and potential liability," he stated.

Jan 9, 2018, Barry Lawrence, MBA, aPHR, HRCI Staff Writer
"Let it snow! Let it snow! Let it snow!"
While a classic refrain of a wintertime classic about how cold weather can warm our hearts, snow and icy weather, for human resource managers, can also mean lost business productivity and employee confusion about expectations to show up for work.
Susan Heathfield, an HR management consultant believes that employers must make two important decisions about inclement weather: What legally guides your decisions about paying or not paying employees? And, how will employees react to your decisions?
Writing for the balance, Heathfield provides an overview of the many legal factors that must be applied, including whether employees are exempt or non-exempt, as well as state and Federal laws. But she also urges employers to consider leniency.
"Consider . . . that employees are missing work for reasons that are not their fault. Employers should consider paying employees for the day or part of the day. This gesture cements relationships and communicates effectively that the employer is committed to its employees' well-being."
Here are a few additional resources for handling snow days:
Littler Mendelson provides an FAQ on weather-related wage and hour questions, guided primarily by the federal Fair Labor Standards Act (FLSA).
The Zenefits blog provides some answers to common bad weather scenarios.
SFM provides guidance on creating a severe weather policy.
Offering flexible work options, available to many workers in both good and bad weather, can help ensure work continues to get done during inclement weather and other scenarios when life gets in the way of work.
"Though I've talked [about] how work flexibility helps during life's unexpected moments, in truth, all of life is unpredictable," writes Brie Reynolds for the 1 Million for Work Flexibility blog. The organization is a national initiative to advocate worker flexibility. "Flexible work options help people (and companies!) always be prepared for the unexpected, which in turn lets them worry less and enjoy life more, no matter what might come their way."
While flexibility works for some, many organizations, such as hospitals, must stay open. And while a company's headquarters may be in a deep freeze, global customers expect normal service hours. Charles Krugel, a labor and employment lawyer writing for Monster, urges companies to match policies with corporate culture and business strategy.
"If you're the U.S. Post Office, then your policy should be 'neither rain, nor sleet, nor snow.' A hard-driving, aggressive organization that's big on face time will probably have a different policy than a family-oriented organization or one that prides itself on workplace flexibility."
International companies also grapple to balance legal and cultural concerns. Disgruntled employees can often react negatively to a deduction of wages, notes Ewan Stafford in HM Insights, from the Scottish law firm Harper Macleod. But there can also be employee resentment when it is decided that all employees will get paid, whether they make an effort to get to work or not.
"This can be alleviated if the employer has a policy which sets out exactly what is expected of staff in terms of attempting to get to work," Stafford says.
No single severe weather policy will work for all organization. What's important, however, is complying with laws and establishing clear policies that treat employees fairly while ensuring that business needs are met.